For more than a decade, sailors of Etchells have clumped south in the winter to relish beautiful weather, warm water as well as outstanding yacht racing of Biscayne Bay in Miami, Florida.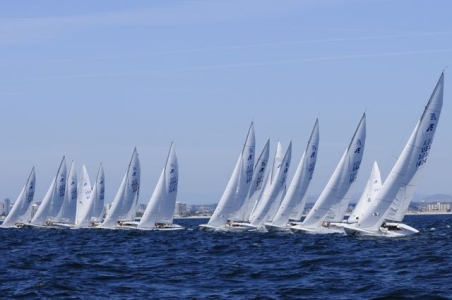 Annually, the Coral Reef Cup arranged by the Coral Reef Yacht Club and Biscayne Bay Fleet 20 world as the winter finale for Etchells Class Southern Circuit, following the 4 regatta Biscayne Bay Series. In 2016, Coral Reef Cup also worked as the Etchells US National Championship 2016 from 18th to 20th March, 2016.
The three day event forecast called for light winds coming over the weekend with a firm scope of thunderstorms earlier on Sunday. PRO Carl Shellbach told the competitors at skippers' meeting, on Friday, that he aimed to get in as many races as was executable Friday and Saturday, just in case Sunday came to be a washout.
Friday was quite a long day – and a world away from a cushy Croatian bareboat charter. After a little postponement in morning, the wind filled in from the south at around six knots as well as the first race was off. The tricky and light southerly resulted in four different race champs. Barry Parkin (GBR 1424) took the first race, while the second one went to Charles Kenahan (USA 1099).
The third race went to Rolex Yachtsman of the year 2015 Steve Benjamin (USA 1228). The last race of the day went to last year's World Champ Skip Dieball/ Jon McClean (USA 1372). Several day-one winners left the lists tight at the top, but that would change soon on the 2nd day of racing.